Research trip
Any sense of time or gravity had disappeared. Suddenly I felt a deep certainty that I should come up, perhaps to find some orientation.
29.12.2020
Interview with Klara Hobza
How dangerous are your dives?
As I tried to dive the Nieuwe Waterweg, I felt an overwhelming pull towards the center of the waterway, where the gigantic container ships are pushing through. There was no other choice but to cling on to an iron beam that happened to be sticking out of the water and wait for help. A group of retired seamen, who come to watch seafaring vessels at the Europoort, soon took notice of my plight. One of them, a man who has the vastness of the ocean burnt into his eyes, is in the habit of carrying a rope with an anchor in his car at all times. With a proud sense of honorable duty, which soon turned into amusement, he pulled me out of the water, joking with his buddies about his catch of the day. 
It was clear that taking this main industrial route, the Nieuwe Waterweg, would be too much of a hazard at this point. To those currents, a human body means nothing more than any floating piece of garbage. I needed to dive a detour, so I took a swift, sharp left into the Delfskanal. This is a much narrower body of water, going right  through the center of Rotterdam. The canal looked very calm and peaceful, and I was looking forward to a more relaxed, introverted dive. I instructed Piet to film this sequence in perfect balance, keeping the water line at the classic golden section, moving very slowly, almost sluggishly, like you would move through mud.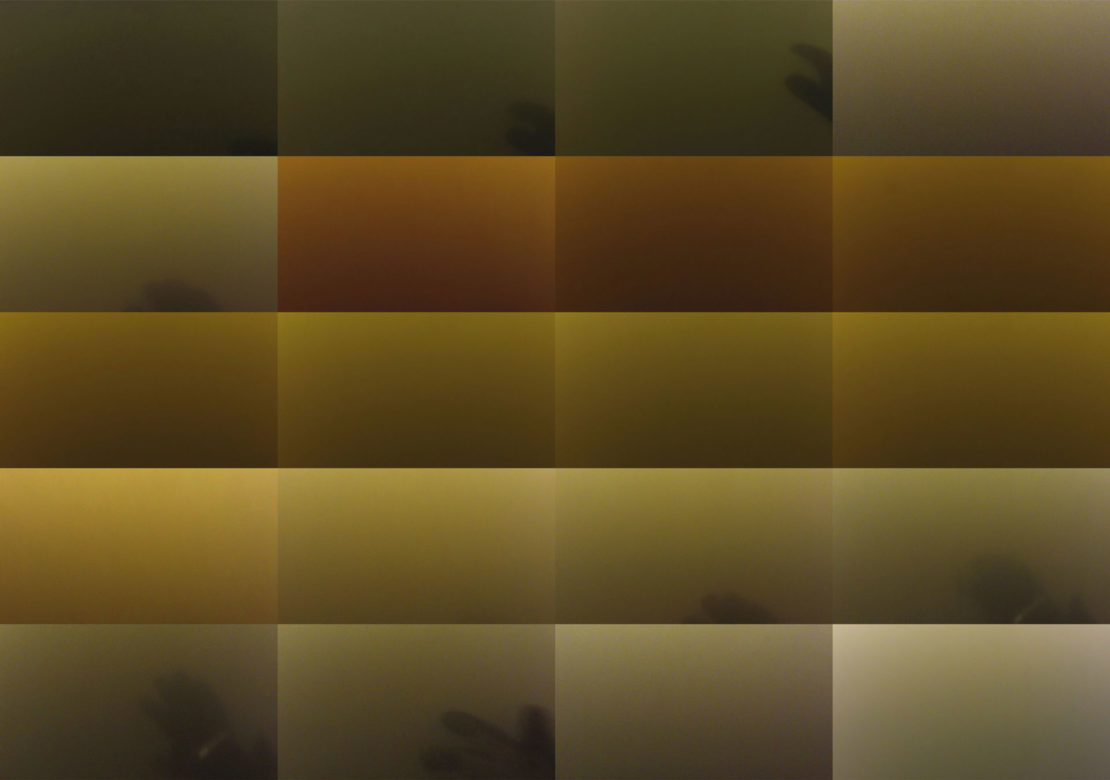 The water was much cooler than I expected. Visibility was lower than ever. Holding my hand before me I could barely make out my five fingers. Yes, it felt claustrophobic. But you should have seen those colors! The mud revealed a stunning spectrum of ever-changing  shades,  continuously shifting from grayish green to almost neon yellow, then to reddish brown and back to grey. Looking upwards, I could make out glitters of sun and the most intense, perfect mid-blue tint of the sky. I turned onto my back, diving face up, feeling sucked towards the sky. Any sense of time or gravity had disappeared. 
Suddenly I felt a deep certainty that I should come up, perhaps to find some orientation. The moment I reach the surface, I hear Piet scream in utter panic: KLAARAAAA!!!! 
KLAAAAAARAAAAA!!!! This was the primal scream of mortal fear, a yell that still haunts me. What? I didn't see anything. I turned around. A container ship is coming straight towards me, this mass of steel, tall as a building, oh shit, I swam and swam, I don't think I had time to breathe.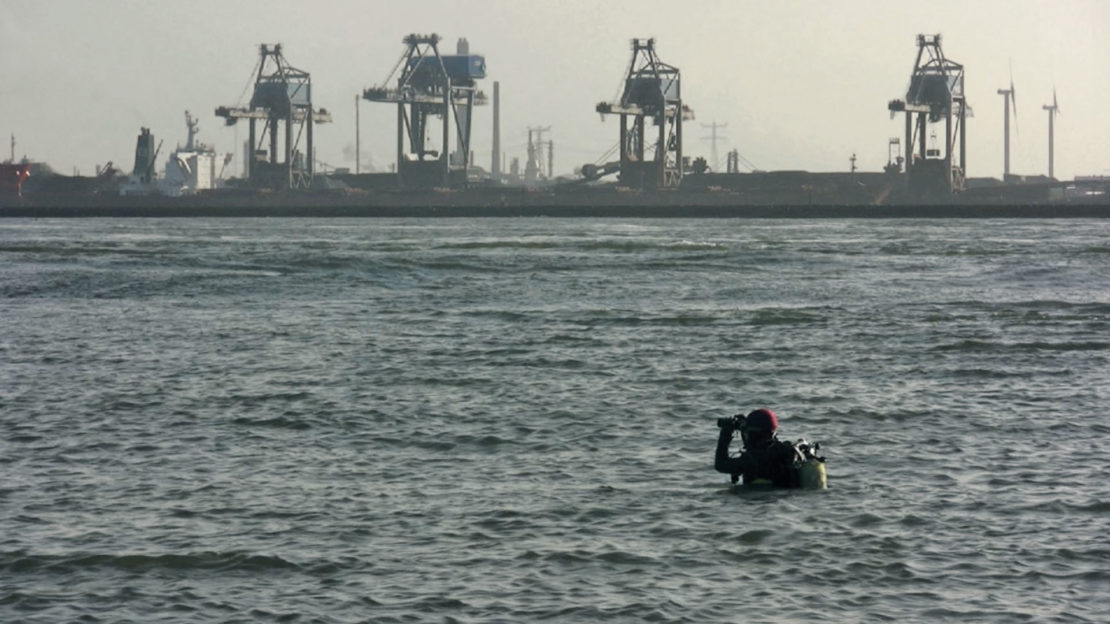 Do you always find the right way under water?
No, not always. One sunny day I was forced to surface because the canal floor smelled so strong that I almost threw up into the hoses of my breathing apparatus. I also felt some tugging and pulling on my equipment. I surfaced to find myself surrounded by young, impossibly healthy-looking female rowers with red cheeks. One of them had latched onto the line of my buoy. To my confusion, we were right next to a city wall built of dark red brick with a round gateway. I had probably stumbled into the moat of a medieval city complex. That also explained the stench, a city's tale of decay and plague that would sit on my palate for the next days.
Where was I, I asked the somewhat perplexed looking young women. "Delft." – "Delft! Delft?" Where to go to the Rhine? They pointed in the opposite direction. Despite my compass, I had lost my way in the maze of Dutch water systems. After I told the oarswomen about my plan to cross Europe, they decided to accompany me for a while. Solemnly rowing in goose formation, they escorted me to the city walls of Delft.
Your installation gives us an insight into what we see underwater. What else do you see on your travels? Is there a particularly valuable story for you?
It's at Hotel Ocean Maritime that I took refuge between two dives. Built on a barge, it is sitting right in the main canal, its windows overlooking the canals coming and going of the freight ships that are pulling out into the Sea.
Operated by retired seamen, the kind soul who helped me lugging my gear understood my trepidation. You can visit our chapel to collect all good souls for tomorrow's dive.
When we arrived in my room he told me: Once a year, always at the same day, a business women comes to our hotel. Whenever we arrive in this room, she pulls this armchair to the window. She brings a book, though this book remains resting in her lap. For two days she sits by this window, looking onto the water.
I am convinced that insisting on complexity and contradictions and working away from instant, efficient answers and solutions is especially important today. 
* 1975 in Pilsen, Czech Republic
studied at the Academy of Arts in Munich until 2003, at Columbia University in New York in 2005 and at Rogue Film School in Los Angeles in 2012
Lives and works in Berlin
Her artistic practice involves performance, video, drawing, and sculpture, and is conceptually held together by narrations of self-imposed endeavors. Hobza's ongoing project Diving Through Europe started in 2010 and uses lived experience as conceptual material, which she then translates into different media.